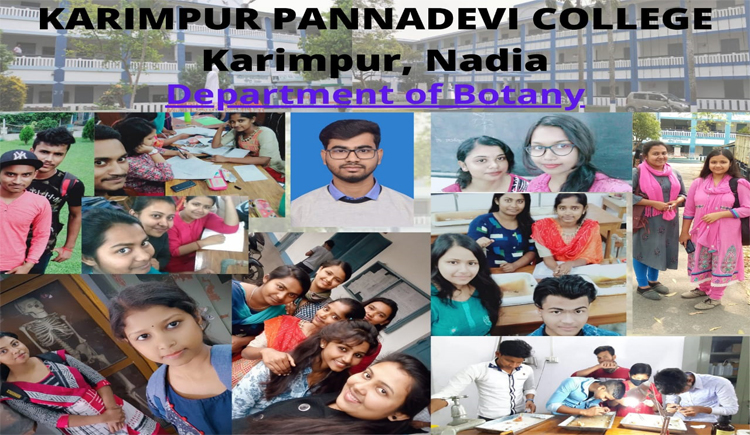 Department Profile
Botany is the study of kingdom Plantae, i.e. Plants and also known as Plant Science. It includes Virus & Bacteria, Fungus, Algae, Bryophytes, Pteridophytes, Gymnosperms, Angiosperms and their Physiology, Biochemistry, Taxonomy, Genetics, Molecular Biology, Breeding, Ecology etc. It is one of the most important and interesting branch of Biological Science.
The course provides basic knowledge, characteristics and morphology of these groups.
It gives general idea of classifications of these groups under plant kingdom.
Students can obtain the knowledge of various physiological and fundamental process and methods of plants and their biochemistry.
It also provides the general knowledge about molecular aspects and genetics of the plants.
It also shows information and ideas of ecology and evolution of these vast plant groups
Department at a Glance:
Sanction Post (Substantive Post): 01
Present Faculty Members: (Mention only number category wise)
| Associate Professor | Assistant Professor | SACT |
| --- | --- | --- |
| 00 | 01 | 00 |
Number of Classrooms: 01
Laboratory: 01
Our Teachers
| Name of the Professor | Academic Qualification | Designation | Profile |
| --- | --- | --- | --- |
| Sri Bipul Sarkar | M.Sc. | Assistant Professor | View |
Department Activities
Certificate Courses (If any, mention chronologically):
Online Certificate Course on "An Introduction to Population Dynamics" from 28th Sep - 9th Oct, 2020.
Study Materials
| Sl.No. | Date | Title | Semester | Download |
| --- | --- | --- | --- | --- |