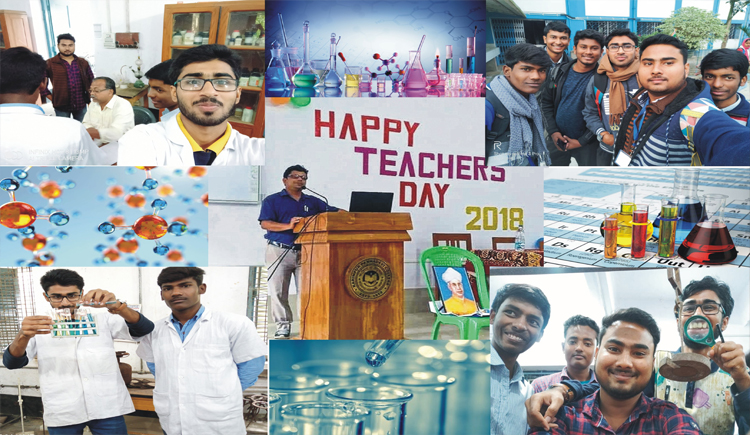 Department Profile
The progress of higher education is embedded in the development of human resources with rapidly growing world. Our institution is truly inclusive and embraces superior diversity in every aspect of this education system and accomplished every area of operation. The welfare of the learners is clearly articulated by the Department of Chemistry. It is one of the exalted departments of Karimpur Pannadevi College which supports the mission of the institution and have set featured goals for the advancement of our beloved learners.
Chemistry adheres in every sphere of life which entails the study of the atomic composition, structural architecture of molecules and various patterns of interactions among them for the development of coherent explanation of the complex behaviour of materials, their appearance and properties, and interactions among different substances.
The department has provided a support to the learners to comprehend this intrinsic sense behind Chemistry. The department help them to build up a complete acumen of chemistry by providing the analytical facilities, instrumentation support, guidance and carrier counselling which they may apply for the development of their professional life.
Department at a Glance:
The Department of Chemistry started its journey in 1981 for the students of Chemistry Pass Course. In 1985, the Honours course was introduced. Presently the department includes 29 sanctioned seats for Honours Students. The department comprises of two highly proficient full time faculty members whose works are internationally recognized and three potentially knowledgeable SACTs. The department is well-equipped with several new and sophisticated instrumental facilities like highly sensitive, precise and accurate Electronic Balance, Spectrophotometer, Polarimeter, Abbe Refractometer, Condutometer and Potentiometer for carrying out the practical classes. Throughout the previous years, Chemistry department has produced several competent learners who have reached their professional milestones.
Above and beyond the teaching-learning process, the Department organizes career counselling, seminars and prepares students for Quiz competitions. The faculty members consistently guide the students in each prompt requirement even outside the campus with sincere efforts. The Department of Chemistry strive to fostering a respectful workplace culture to cultivate a fair environment where our staff, faculty, and students can thrive themselves in new advanced chemical frontiers.
Sanction Post (Substantive Post): 2
Present Faculty Members: (Mention only number category wise)
| Associate Professor | Assistant Professor | SACT |
| --- | --- | --- |
| 00 | 02 | 03 |
Laboratory: 03
Demand Ratio:
| Year | Seat Intake | Application Rec. | Ratio |
| --- | --- | --- | --- |
| 2018-19 | 29 | 13 | 0.45 |
| 2019-20 | 40 | 168 | 1.38 |
| 2020-21 | 92 | 143 | 3.17 |
Our Teachers
| Name of the Professor | Academic Qualification | Designation | Profile |
| --- | --- | --- | --- |
| Dr. Kartick Ch. Pal | M.Sc, Ph.D (B.U) | Assistant Professor | View |
| Dr. Mrinal Kanti Das | M.Sc. (Visva Bharati), Ph.D. (IISER Bhopal), 1st Postdoc (IISER Bhopal), 2nd Postdoc (Georgetown University, Washington, DC, USA) | Assistant Professor | View |
| Sri Abhijit Biswas | M.Sc | SACT | View |
| Smt. Jayashree Roy Kundu | M.Sc | SACT | |
| Sri Arnab Shil | M.Sc | SACT | |
Department Activities
Special Achievement by the Departments: Conducted International webinar on "Energy for Sustainable Development" on 8th October,2020. (See details in the Webinar section)
Any Programme : Actively Participate on Carrier Counselling Mapping proramme organised by IQAC on 18th December, 2018 for neighbouring school students.
Study Materials
| Sl.No. | Date | Title | Semester | Download |
| --- | --- | --- | --- | --- |